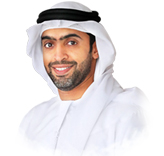 Mansoor Ibrahim Ahmed Al Mansoori
Board Member
Mansoor is a prominent leader in the UAE and has had a diverse range of professional experiences in senior leadership positions across sectors including telecommunications, energy and government; with a proven track record of setting up strategies, building institutional structures and capabilities and performance-based management systems.
At G42, Mansoor is responsible for the Group and operating business units on strategic partnerships, innovation, capacity building, business efficiencies and transformation, revenue optimization, brand development, organizational culture and identifying and mentoring talent to develop future leaders of G42.
Prior to joining G42, Mansoor served as Director General of the UAE National Media Council and was responsible for transforming the Council's offerings across regulatory services, media policies, UAE's national media wire services and strategic communications. He contributed towards UAE's brand and reputation management, locally, regionally and internationally and introduced policies and frameworks to further the country's media and digital communication capabilities and to foster innovation and development for the industry.
Mansoor is currently the Chairman of Injazat and Bayanat, and serves as a board member of Etisalat, AIQ and Multiply, as well as a member of the Board of Trustees of MBZUAI. In the past, he held several board positions including Abu Dhabi Tourism and Culture Authority and Emirates Palace Company.
Mansoor holds a Master's degree in Strategic Security Studies and National Resources Management from the National Defense College (UAE). He is a University of Toledo (Ohio, USA) graduate in Computer Science, and holds several specialized certificates including a Leadership Certificate from London Business School (UK), Innovation Strategy Leadership from Massachusetts Institute of Technology (USA) and International Institute for Management Development (Switzerland).